India: benchmarks trend lower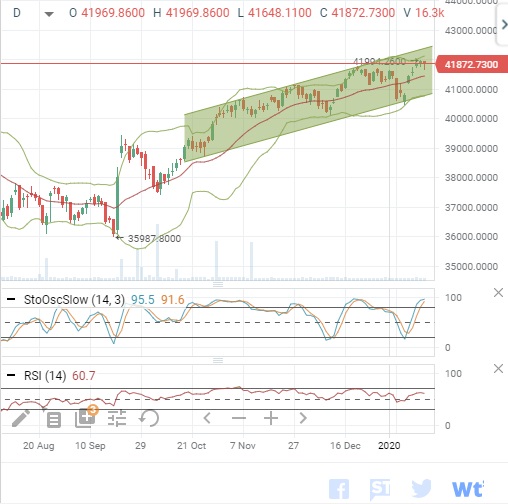 Key Indian stock indices showed negative performance on Wednesday, January 15, following US Treasury Secretary Steven Mnuchin's comment that the recent tariffs on Chinese imports will remain in effect at least until the two countries strike a phase-two deal. Consequently, bullish sentiment faded ahead of the signing of the phase-one agreement.
The external backdrop was unfavorable as Asian equities closed to the downside, while European benchmarks were trading in the red.
Recapping the benchmarks, the Nifty 50 rose 0.59% to 12,359.55, and the BSE Sensex advanced 0.62% to 41,859.69.
By 10:45 GMT, the USD/INR currency pair ticked up 0.04% to 70.865, while EUR/INR increased 0.07% to 78.8870. The 10-year Indian government bond yield narrowed 0.48% to 6.630%.
India's third largest software exporter Wipro plunged 3.5% after reporting that net income decreased 3.8% y-o-y to INR 24.56 bn (USD 344 mn), or INR 4.3 per share, for fiscal Q3 ended December 31. Moreover, the company provided worse-than-expected earnings guidance for the current fiscal quarter.
IndusInd Bank plummeted 5.5% after reporting an increase in NPLs for fiscal Q3.
Canara Bank shed 1.2% after saying it abandoned plans to sell an equity stake in its subsidiary mortgage lender without giving a reason.
Conversely, Yes Bank advanced 3.1%, correcting higher after a three-day losing streak.
IT player MindTree picked up 2.7% after reporting a 3% rise on quarterly profit.
On, the daily chart, the BSE Sensex continues to trade within a rising band near the upper line of Bollinger Bands, while the Slow Stochastic Oscillator has entered overbought territory, with the RSI hovering close to it. As a result, the downtrend will likely gain traction in the short term.